We bring Soda Blasting, Metal Cleaning, Epoxy Coating and Sandblasting services to your location. After that, your machinery will move smoothly the way it did when it was new!
Providing efficient and cost-effective mobile sandblasting, baking soda blasting, painting and carpentry services.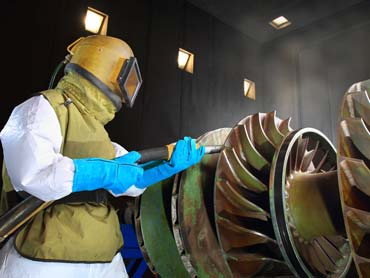 Blasting is an essential process to refurbish large motor core housings and coils. Cleaning with soda blasting equipment extends the life of industrial machinery. There is no other more effective method to clean the machines. Depending on the location and usage, the blasting and cleaning could last up to 10 years. We deliver calcium, sand, and baking soda blasting and power washing surface preparation services.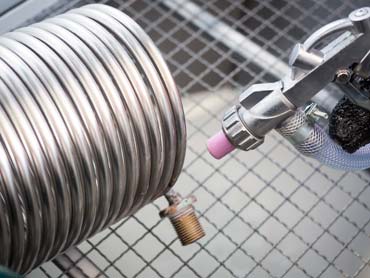 Stainless steel manufacturing machines get blasted before being delivered to the customer. Soda blasting is one of the final steps before assembly. These machines we work on are huge, bigger than a combine tractor. All of the stainless steel pieces of equipment are meticulously soda blasted. Finally, the manufacturing machines are assembled at the customer site and generally fill large buildings.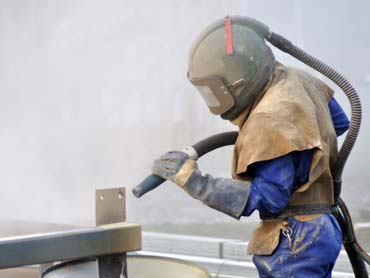 In the Food Industry, we perform soda blasting on corrugated steel, rafters, steel columns and x-braces. In the manufacturing process of food, there can be no contamination. The manufacturing area is isolated to maintain food safety. Cleaning the steel of a manufacturing facility helps to preserve the structural integrity of the building. We apply an epoxy coating to the surface after blasting to return the steel structure to as good as new condition. We do the cleaning during equipment changeover to minimize disruption in work. Structure maintenance of a manufacturing facility is key to clean operation, energy efficiency and food safety.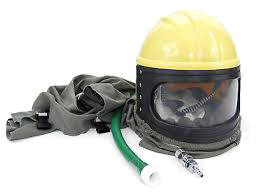 Ecoblast Restoration Provides Dustless Blasting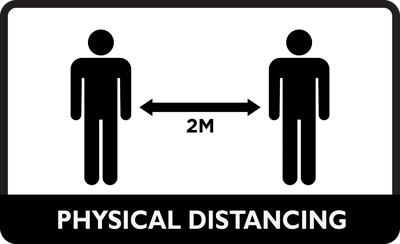 Ontario's fight against COVID-19 is far from over. Everyone must do their part to keep each other, our families and our communities safe. Ontario's successful recovery depends on the collective efforts of individuals, families and businesses to continue to follow public health advice.
Ecoblast Restoration has put the necessary measures in place to protect the health of their workers and the public, including screening, safe physical distancing, wearing a mask and frequent and thorough hand-washing. Document or track attendance as much as possible to support contact tracing efforts while respecting privacy.
For further information please feel free to use the following links:
Restoration of Boat Hulls with Baking Soda Blasting.
Ecoblast Restoration is your source for quality, environmentally responsible and cost-effective blast removal of extreme oxidization streaks and accumulated foul at the waterline and below. Harsh, expensive chemicals, scraping, sanding, or pressure washing for days to remove stains and foul off the hull of your boat is a labour-intensive job. Let us blast it off!
Environmentally Friendly
Instead of using harsh chemicals, soda blasting boats is water-soluble, non-toxic, non-hazardous, and safe for the environment.  Read more about Soda Blasting Boat Hulls.
Restoration Results Delivered by Your Sand and Baking Soda Blasting and Epoxy Coating Specialists.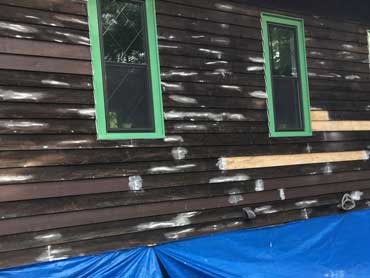 Sand blasting will bring out an extreme grain on the wood and is used to make wood look old and rustic. Baking soda blasting is good for a lighter profile and grain in wood. Blasting prepares the surface for painting.
Sand blast media will clean heavy steel equipment by removing paint, grease and oil. It is possible to remove the paint on the heavy equipment down to the metal and restore it to original condition.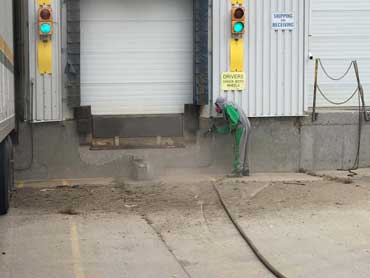 The media choice will depend on the hardness of the material and the profile you want. Pressure washing is not all that effective in removal of oil, grease and gum, while soda blasting provides a much better solution.
We can provide an accurate estimate. Tell us about your project, when you need the work done, material to be blasted, location access to the item(s) and any obstructions to consider or work around.
Products and Services: Metal Cleaning, Carpentry, Powerwashing, Restoration Services, Spray Painting, Mobile Services,Sign Restoration. Concrete and Block Cleaning and Painting, Industrial Services, Baking Soda Blasting, Protective Coatings, Epoxy Coatings, Grafitti Removal, Heavy Machinery, Sandblasting.
For More Information Call Us
Ecoblast Restoration provides soda blasting and cleaning on wood surfaces of cottages, cabins and homes.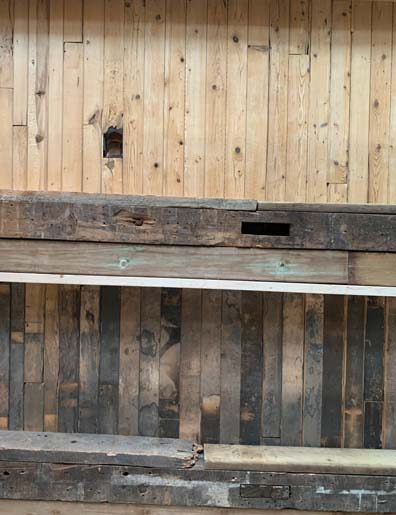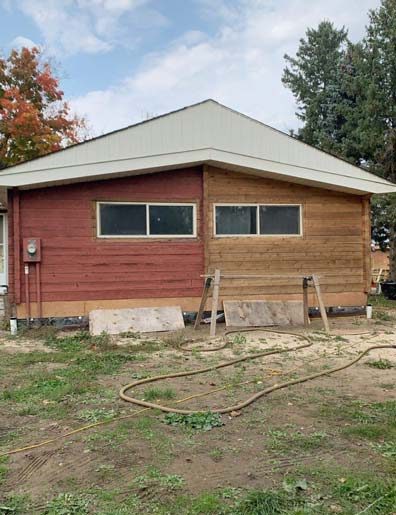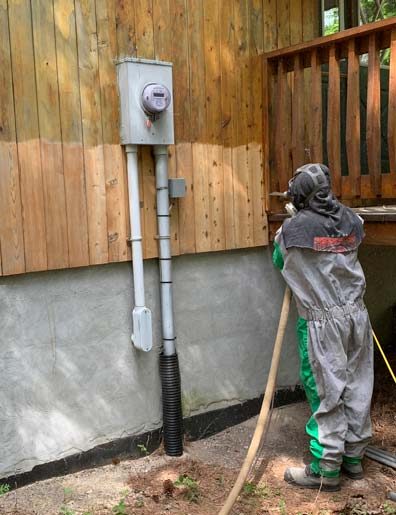 What Our Customers Said About Us
We have satisfied customers from all over York and Durham Region, West of the GTA, Guelph, Waterloo and many other parts of Ontario.
Connors Construction has used Ecoblast Restoration on two projects to date.
The first project was at the University of Guelph and involved restoration of metal fire escape stairs on the exterior of buildings.  The project required proper enclosure of the work area. After that, Murray's crew performed sand blast operations and then paint applications of an epoxy product.  Upon completion of the work, the site was cleaned of residual sand and the same process was repeated at the next location.  Some of the stair systems were three building stories tall.
The second project was at Xylem Water Solutions in Guelph. Murray's crew prepared and painted a blue band around the building. In addition, they painted long expanses of window details and prepared and painted concrete walls, walkways and railings.
When conditions required, Murray would work weekends or off-hours to ensure the work was completed on time Work was also completed  as to not interfere with the client's operations.
On both project we found Murray to be knowledgeable in methods, materials and hoarding operations.  In conclusion, we would confidently use Ecoblast Restoration on future projects.
Brian Connors
President
ABB in Whitby has been using Ecoblast Restoration for the past year and will continue to use their services. We have always been completely satisfied with their performance. 
They are extremely reliable, punctual and very accommodating with competitive pricing, for instance. Therefore, I am happy to be recommending the services of Ecoblast Restoration.
Sincerely,
Alex Ganhao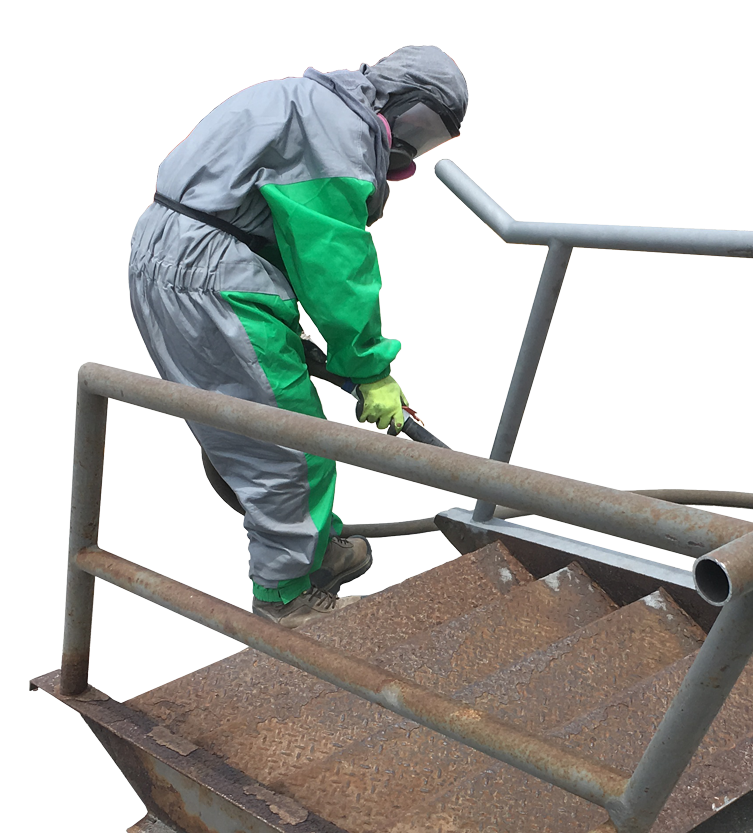 Leave Your Phone Number,
We'll Call You